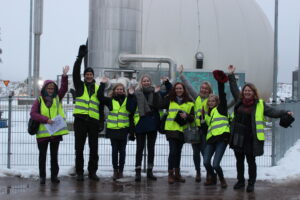 EcoChange Ltd gives now also presentations and guiding at HSY:n Ämmässuo waste management centre and Sortti – waste stations for visiting groups, like schoolchidren, students and professional groups.
In the picture are our guides Erja Hakkarainen, Jukka Matinvesi, Anna Johanson, Helmi Nevalainen, Anne Kandolin, Elina Laurén, Reija Heinonen and Suvi Runsten.
The minimun size of a group is 10 persons and you have to have a bus. At Ämmässuo there is e.g. a composting plant, a biogas plant, a power plant using landfill gas, landfill operations and a Sortti -waste station for small waste amounts. The newest waste station at Ruskeasanta is preferred for presentation of the all the Sortti -stations.
If you want to book a presentation, contact: info@ecochange.fi or phone 050-5690049.
HSY = Helsinki Region Environmental Services Authority