Our Services
Waste Management and Resource Efficiency
You can achieve considerable savings with our Waste management and Resource efficiency consultancy services. Analyzing your methods and processes we can detect phases, which could be more efficient.
Go to Environmental Consulting
Environmental Consulting
We offer e.g. Environmental Management Systems, different kind of reports, and Environmental permit applications. Our consultancy will help your company to improve its image. Positive image is important for companies of all size.
Information about us
We offer you
A versatile and experienced expert company in Environmental issues
- Waste and Environmental Consulting and Education
- Waste management development and tendering
- Material and energy efficiency consulting
- Enviromental permits, contaminated soil and water research
- Consulting about Environmental Management Systems
- Research about nature and other environmental issues
- Climate change prevention and adaptation
- Education about waste and environmental issues and future visions
- Professional support with all environmental questions
- Forerunner, publicity profit, image and competitiveness enhancement, marketing help, answering with stakeholder demands and preparing for future changes.

in waste expenses with waste consulting

in company's material expenses with material efficiency consulting

in company's energy expenses with energy efficiency consulting
NEWS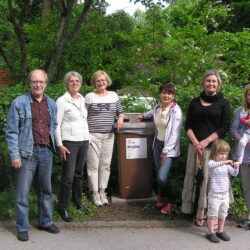 The EcoChange report "Possibilities to collect biodegradable waste to shared or local collection bin" can be found here. There was an article about the project at Uusiouutiset-magazine 3/2015, which can be found here. It would be possible to collect yearly even 150 000 tonnes of biodegradable waste with shared bins. Ministry of the Environment financed the Read more about Reports from last projects[…]

In 2014 EcoChange continued to support a goddaughter in Uganda via WorldVision. EcoChange also gave a microloan to indigent people, participated at Nose Day fundraising, supported the repair work of Greenpeace's Arctic Sunrise –ship and aided the Ebola affected area of West-Africa.
Previous
Next
Contact us
Ask for an offer or about our services